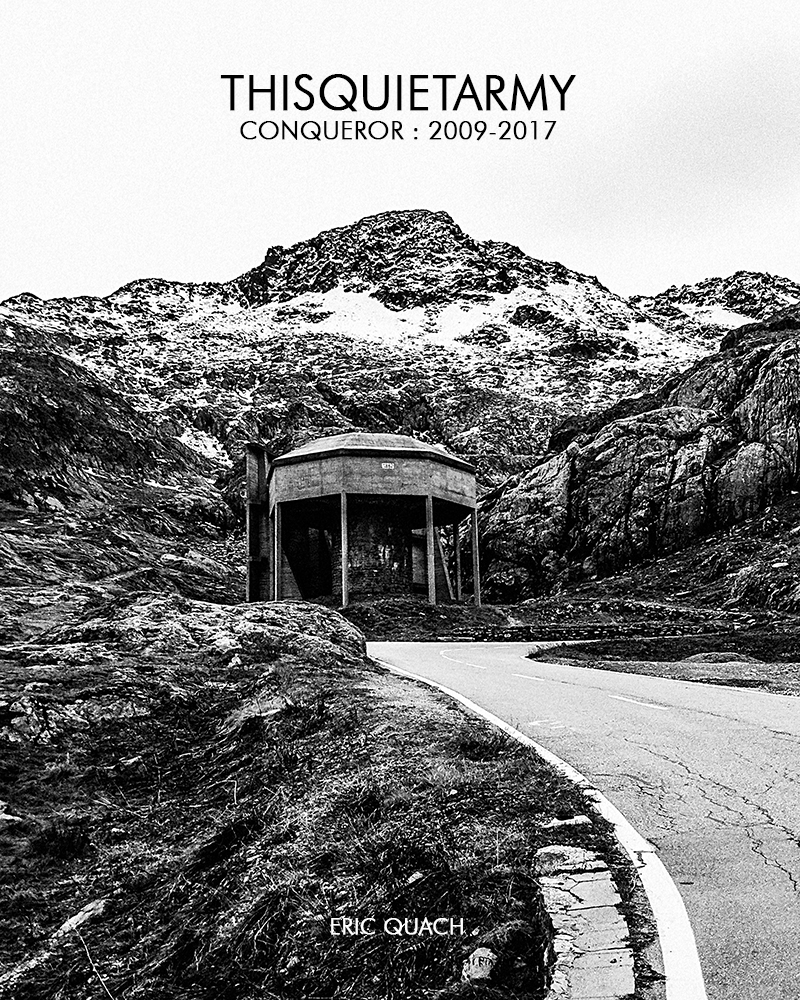 RELEASE DATE :

October 27th, 2017 (Europe)
December 15th, 2017 (North America)
SPECS :

480 pages
Softcover paperback
8"x10" / 20x25 cm
7" Flexi-disc
Weight 2kg / 4 lbs (shipped)
RELEASED BY :
Thisquietarmy Records (Canada / on tour)
DISTRIBUTED BY :

Consouling Sounds (Belgium)
Midira Records (Germany)
Gizeh Records (UK)
A Thousand Arms (USA)
SELECT PHYSICAL STORES (to be updated) :
Quelque Part Records (Lille, France)
Echo Buecher (Berlin, Germany)
---
OFFICIAL BOOK LAUNCHES & RELATED SHOWS :
October 21 - Bochum, Germany @ Christuskirche
October 23 - Hamburg, Germany @ Astra Stube
October 24 - Berlin, Germany @ Echo Buecher (book launch exhibit)
November 4 - Berlin, Germany @ Jaegerklause
November 10 - Utrecht, Netherlands @ Strowis
November 11 - Goor, Netherlands @ HANS
November 12 - Utrecht, Netherlands @ Le Guess Who?
November 15 (tbc) - Lille, France @ Quelque Part (book launch)
November 16 (tbc) - Ghent, Belgium @ Consouling Store (book launch exhibit)
November 17 - Liège, Belgium @ La Zone
November 23-December 03 - Italy (details tba)
December 09 - Wroclaw, Poland @ Festiwal Ambientalny
More to be announced.
PRINTS & REQUEST:
thisquietarmy@gmail.com
---
Eric Quach, aka THISQUIETARMY, looks back on eight years of touring and solo live performances across the world – an adventurous journey that evolved organically and exponentially after a steady decade-long career in a scientific field and a corporate environment. Between 2009 and 2017, his unique brand of experimental guitar-based soundscapes, prolific body of work and unorthodox tour plans led him to perform close to 500 times across 35 countries in North and South America, Europe and Asia. These performances took place as much in professional concert venues and internationally renowned music festivals, as in art galleries, living rooms, churches and alternative DIY spaces off the beaten path, away from the conventional touring circuit. On the road, he encountered his peers and his fans, connected with people from all walks of life, dropped in their intimate sphere and daily routine, shared their views, struggles and cultural perspective through food and drinks, hospitality and sightseeing. As a result, Conqueror: 2009-2017 presents an anthropological glimpse of Quach's odyssey over 17 extensive tours through countless kilometers, with more than 1000 photographs and 30000 words.